Yasim Bey (Mos Def) & Mannie Fresh Present "Black Jesus" From Forthcoming Collaboration
While there have been snippets to listen to in the past, Yasiin Bey (Mos Def) and Mannie Fresh present an entirely finished song in the form of "Black Jesus." Pulled from the long-rumored and arduously worked on project OMFGOD BK NOLA that pairs the BK emcee with the legendary Cash Money producer, the result is an unexpected mash-up of sensibilities and style.
Check out Noble Breed, up and coming Men's Brand from the the homie Eric Feliciano.
Noble Breed is a men's accessories lifestyle brand created by a couple of guys from Brooklyn.

We aim to create high quality, affordable products that help men look stylish, sophisticated and cool.

Whether it's one of our charmeuse Italian silk pocket squares or cotton camo print handkerchiefs, the details make all the difference. The right handkerchief, pocket square or lapel accessory is enough to take your outfit to the next level and separate you from the crowd.

Our products are assembled in the USA, including our Brooklyn based factory.

Eric "The Redd" Feliciano & Joaquin Rodriguez.

—Team Noble Breed
Jay-z: Jay-Z Rides the Subway, Adorably Explains Who He Is to an Adorable Old Lady
Today (which happens to be Hova's 43rd birthday), a 24-minute documentary on Jay-Z's 8-show stint that opened Brooklyn's Barclays Center in September was released via YouTube.
Stained Glass Water Tower by Tom Fruin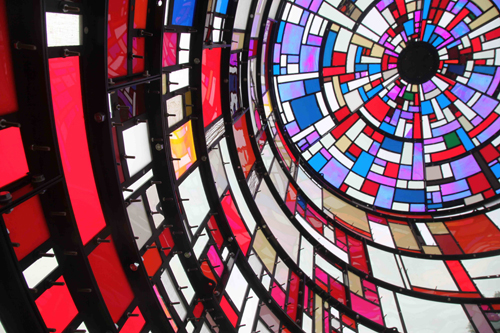 Tom Fruin: WATERTOWER
June 2012 - June 2013
Tom Fruin Studio is pleased to present Watertower, a new sculptural artwork by Brooklyn artist Tom Fruin. For the US premiere of his internationally recognized Icon series, Fruin has created a monumental water tower sculpture in colorful salvaged plexiglas and steel. Watertower will be mounted high upon a water tower platform to become a part of the DUMBO, Brooklyn skyline.
This project is the fourth work in the plexiglas and steel patchwork Icon series which features scavenged, reclaimed, and recycled materials constructed into sculptural tributes to architectural icons around the world, from the obelisco of Buenos Aires, to the kolonihavehuse of Copenhagen. The series can be seen as a three-dimensional evolution of Fruin's found drug-bag quilts and flags for which he is well known.
Fruin, who often works with reclaimed and discarded materials, has composed Watertower from roughly one thousand scraps of plexiglas. It includes such details as interior and exterior access ladders and an operable roof hatch. The locally-sourced plexi came from all over New York City—from the floors of Chinatown sign shops, to the closed DUMBO studio of artist Dennis Oppenheim, to Astoria's demolition salvage warehouse Build It Green!NYC.
Illuminated by the sun during the day and by Ardunio-controlled light sequences designed by Ryan Holsopple at night, this beacon of light is a tribute to the iconic New York water tower and a symbol of the vibrancy of Brooklyn. Watertower opens June 7th, with daily light shows beginning at dusk and continuing to morning. Situated on the rooftop of 20 Jay Street the sculpture will be viewable from the parks and streets of Dumbo, the Brooklyn and Manhattan Bridges, FDR Drive and Lower Manhattan.
Tom Fruin (b. 1974) works in Brooklyn, NY. His work is a part of many international museums and collections, most notably The Hanck Collection at the Museum Kunstpalast in Düsseldorf, Germany; the Richard J. Massey Foundation for Arts and Sciences in New York, NY; and the Buenos Aires Design Center (Centro Metropolitano de Diseño) in Buenos Aires, Argentina. Fruin's most recent contribution to public art in New York City is the 50 foot tall neon sculpture HOTEL on the Wythe Hotel in Williamsburg, Brooklyn.
This public sculpture is supported in part through a Brooklyn Arts Council Community Arts Grant, a Build It Green materials grant, and The Richard J. Massey Foundation for Arts and Sciences. Additional technical support provided by Nick Liberis at Platform4 Collaborative Design; J. D. Messick (architectural renderings); and Two Trees Management Co.
Tom Fruin  
Watertower, 2012
found plexiglas, steel, bolts 
25 x 10 x 10 feet
Better Known As Brooklyn… by Max Vogel
Water Tower Chair by Bellboy
Item No. SAW0021201


Description_
A low lying lounge chair made from reclaimed timbers of a New York City Water Tower

Dimensions_
39"w x 35"h x 30"d

Materials_
Old Growth California Redwood



Pricing Inquiries_
BELLBOY
p: 646 7532770
e: info@bellboynewyork.com


Made in BROOKLYN / NY


photographs by joshua dalsimer
Rocawear Presents JAY-Z From "Marcy to Barclays" Commercial (by rocawear)
Keith Haring (American, 1958–1990). Untitled, 1980. Sumi ink on Bristol board, 20 x 26 in. (50.8 x 66.0 cm). Collection Keith Haring Foundation. © Keith Haring Foundation
March 16–July 8, 2012
Morris A. and Meyer Schapiro Wing, 5th Floor
Keith Haring: 1978–1982 is the first large-scale exhibition to explore the early career of one of the best-known American artists of the twentieth century. Tracing the development of Haring's extraordinary visual vocabulary, the exhibition includes 155 works on paper, numerous experimental videos, and over 150 archival objects, including rarely seen sketchbooks, journals, exhibition flyers, posters, subway drawings, and documentary photographs.
The exhibition chronicles the period in Haring's career from his arrival in New York City through the years when he started his studio practice and began making public and political art on the city streets. Immersing himself in New York's downtown culture, he quickly became a fixture on the artistic scene, befriending other artists such as Jean-Michel Basquiat and Kenny Scharf, as well as many of the most innovative cultural figures of the period. The critical role that these relationships played in Haring's development as a public artist and facilitator of group exhibitions and performances is also explored. Pieces on view include a number of very early works never before seen in public; seven video pieces, including Painting Myself into a Corner(his first video piece) and Tribute to Gloria Vanderbilt; and collages created from cut-up fragments of his own writing, history textbooks, and newspapers.
Keith Haring: 1978–1982 is curated by Raphaela Platow. The exhibition is co-organized by the Contemporary Arts Center, Cincinnati, and the Kunsthalle Wien. The Brooklyn presentation is organized by Tricia Laughlin Bloom, Project Curator, and Patrick Amsellem, former Associate Curator of Photography, Brooklyn Museum.
This exhibition is made possible by Lisa and Dick Cashin with additional support provided by the Stephanie and Tim Ingrassia Contemporary Art Exhibition Fund.