Hyperrealistic Animals Created by Painting on Layers of Resin
"Goldfish Salvation" Riusuke Fukahori from ICN gallery on Vimeo.
Singapore-based artist Keng Lye meticulously produces three-dimensional works of art with acrylics and epoxy resin that lie somewhere between painting and sculpture. Using a technique originated by Riusuke Fukahori (see this video), Lye manages to produce the illusion of different animals swimming in water. The time-consuming process involves pouring resin into a bowl and then painting on top of it with acrylics, layer by layer.
Lye's labor-intensive approach requires the utmost patience and attention to detail, as each piece could consist of numerous layers. Altogether, the carefully plotted and executed layers present a rich sense of depth and life. After completion, the artist then photographs each piece as though it were just a still of real, living and breathing aquatic life in a bowl of water. Several requests have been made to purchase work from this series, known as Alive Without Breath, though it is currently unavailable. The artist hopes to sell some work, though he says it will probably be through an art gallery and admits, "[T]he problem with this kind of art is that it require[s] a great deal of time to complete, therefore they won't come cheap."
Annemarie Busschers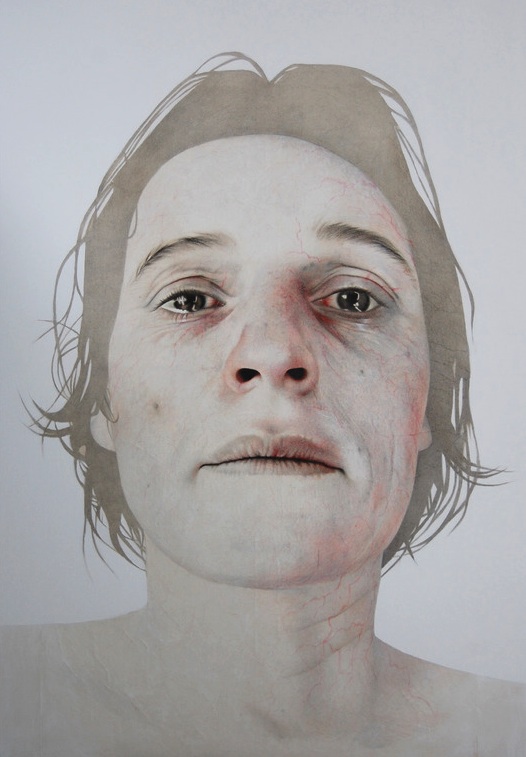 Beyond Grief, 2011, pencil, acrylic, Japanese paper on Cotton, 170 x 120 cm.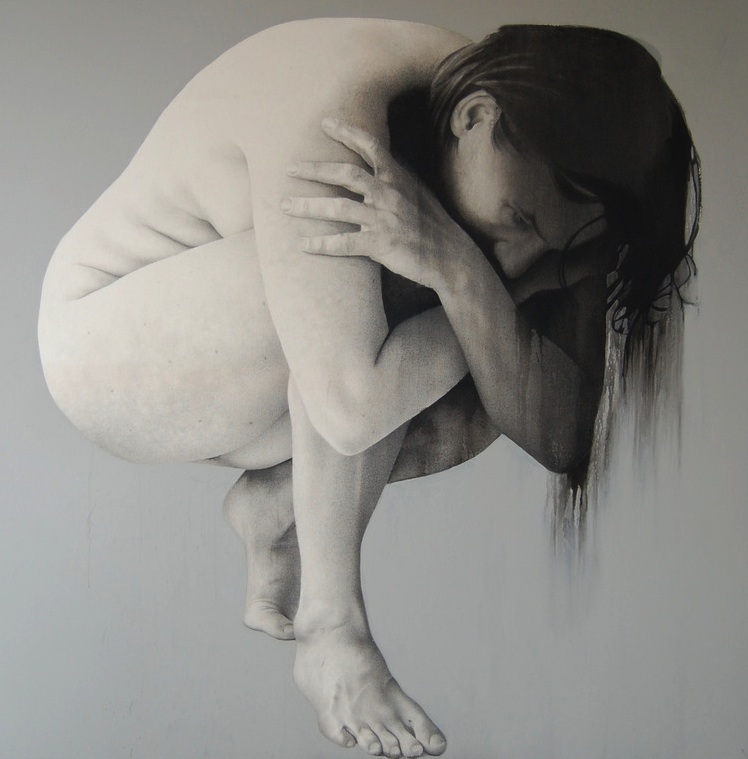 Self-Portrait, pencil and acrylic on cotton, 180 x 180 cm.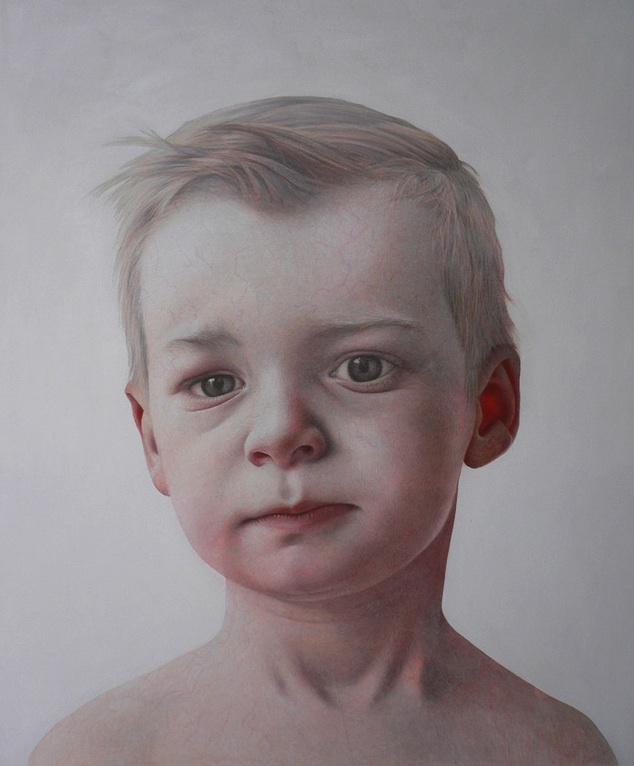 Rutger, 2007, pencil, Japanese paper, crayon, acrylic on cotton, 95 x 130 cm.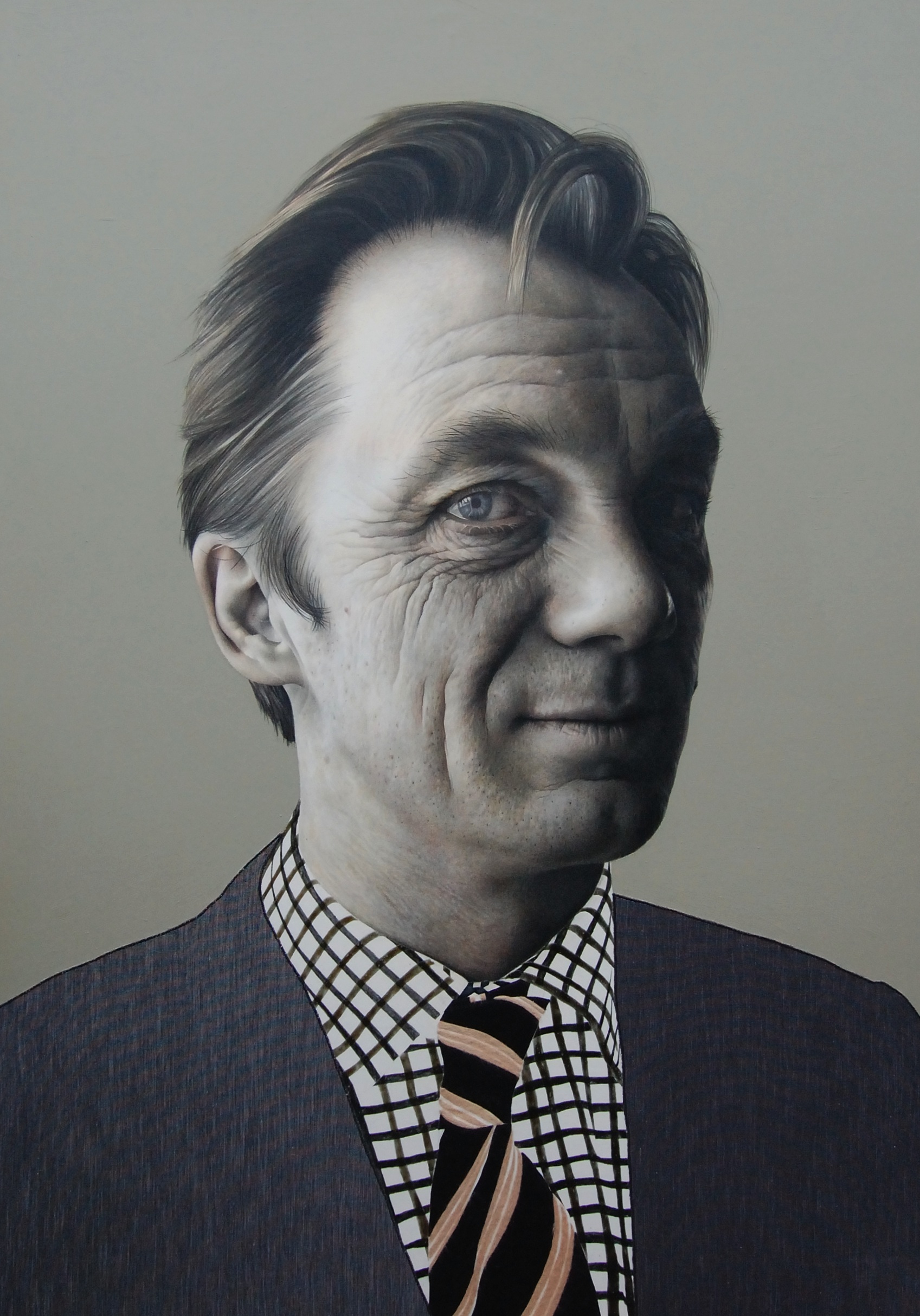 Wim Pijbes, 2009, graphite, acrylic, cotton, rubber and felt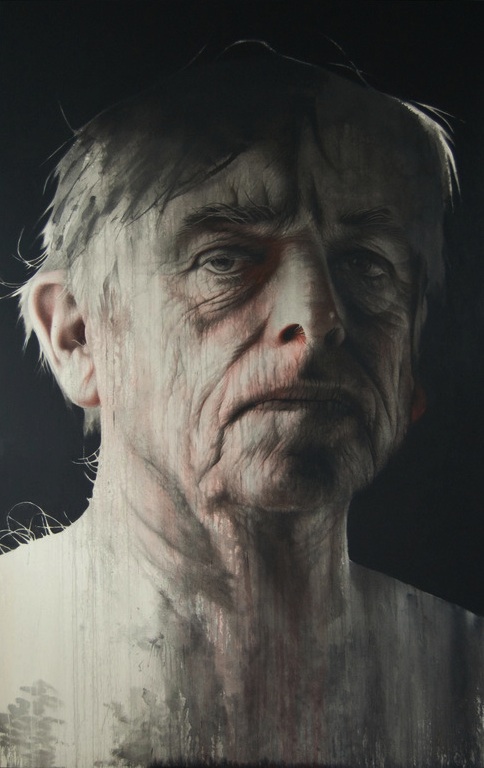 Peter, 2011, pencil, acrylic on cotton, 250 x 160 cm.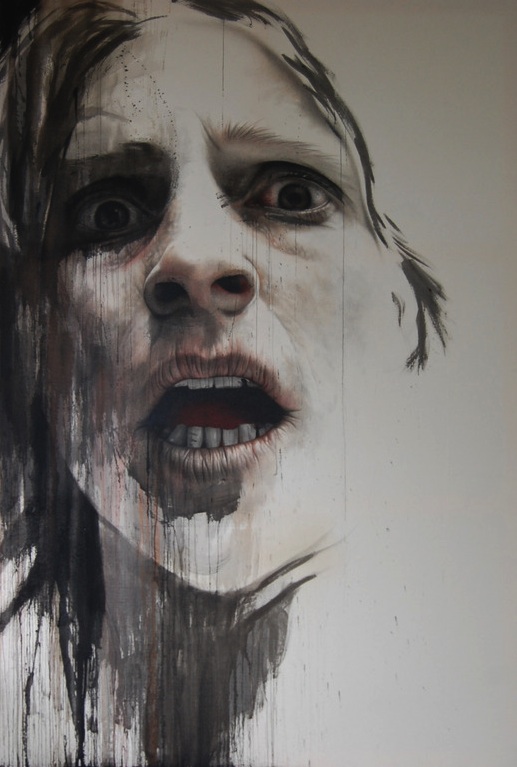 Self-Portrait, 2010, acrylic and pencil on cotton, 250 x 160 cm.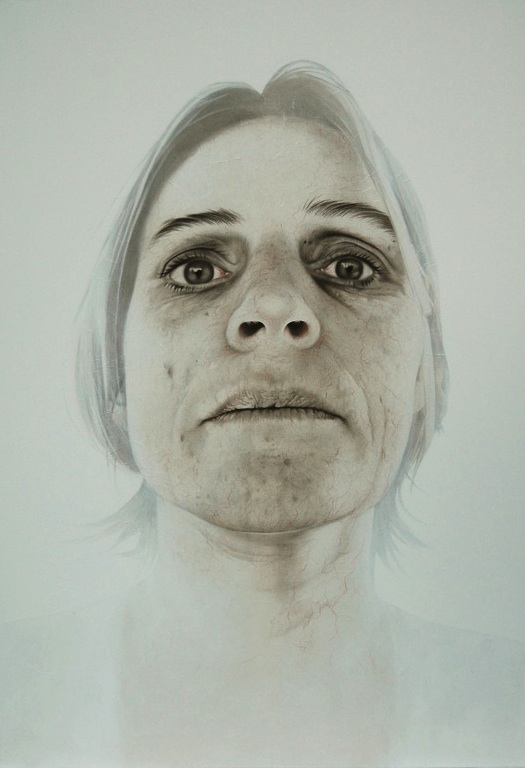 Self-Portrait, 2010, paper pencil acrylic on cotton,  170 x 120 cm. 
Artist Bio 
Annemarie Busschers (NL) was born in 1970, in southern, catholic 's-Hertogenbosch, Hieronymus Bosch hometown; she moved to the northern, protestant city of Groningen in the early 90s where she studied at the Minerva Fine Arts School; she never moved back down South. Her first body of work drinks directly from Bosch heritage; soon enough she found her own theme and language. In 2003 she makes Child I, work which signals the turning point in her oeuvre; in 2005 Chicken Pox is selected for the BP award of the London National Portrait Gallery, for which her work will be selected again in 2006 and 2008. Since then, her body of work consists of self-portraits and portraits she works on based on a photograph.
Her work belongs to the Dutch tradition of reproducing the subject matter with utter detail, as if we could touch with the eye the textures of the surfaces, the fabrics and the skin, etc Busschers work digs deeper into the meaning of contemporary individualism by treating the surfaces as landscapes with a right of their own. They are not psychological portraits, in the manner of Lucian Freud, her work is scientific, almost microscopic; she researches the surfaces of the body, of the imperfect, uneven skins, bound to illness, decay and ultimately death. They are paintings of hybrid beings where the subject is not only painted but also built by different layers of materials such as acrylic paint, pencil, pastel, epoxy, wood, wax, paper and felt. Portraits are therefore not only painted but also constructed by adding these layers onto the canvas. These layers help document the constant change we are subjected to, as if we were observing with the curiosity of a teenager who in front of the mirror stares with resentment, anger and fear the mutations the body goes through. Indeed, the individuals portrayed seem to be looking at themselves into augmented mirror. 
Busschers raw realistic portraits and self-portraits mirror today's self-obsession, the self-centeredness of the child, we haven't outgrown and which is at the core of the contemporary consumerism society. Contemporary Consciousness Studies affirm that subjective feeling is an illusion. Psychologist Susan Brown affirms, that such thing as subjectivity does not exists; there is only experience. Yet, we seem to be in the middle of a hyper individualistic society that pushes us to believe we think, act and choose as individuals. Self-centeredness might not let us be aware of the fact that we are constructed by our environment, that the so-called right to privacy disappears in the name of social control and security. Hybrid objects appear when there is a new item that makes the previous one obsolete, think for example of the complexity of the typewriter when it was being left aside by computers. While reflecting individualism and self-obsession, Busschers hybrid beings might signal the end of the self, which is yet to come.
Lucas Simoes secret cut paper expressions

Lucas Simões is an artist living and working in Sao Paulo. The majority of his works revolve around the combination of both geometric and organic shapes overlaid to create curious patterns.
In this series he invited close friends to tell him a secret as he photographed them. His sole intention was to capture each persons expression as they told the secret. At the end of the photo session he chose 10 different pictures then cut and layered between acrylic sheets.