Autistic Artist Stephen Wiltshire Draws NYC From Memory
Stephen Wiltshire was mute when he was diagnosed with severe autism at the age of three. He began communicating through his drawings after being sent to Queensmill School in London, and with the support of his special-needs teachers, gradually learned to speak.
It was during those school years that they discovered Stephen's special talent, when he drew the ornate Albert Hall following a class field trip — without the aid of a photograph. Wiltshire has the uncanny ability to draw and paint detailed landscapes and cityscapes entirely from memory.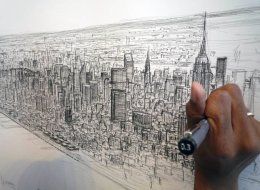 Wiltshire can look at the subject of his drawing once and reproduce it accurately with photographic detail, down to the exact number of columns or windows on a building. He memorizes their shapes, locations and the architectural flourishes, and will do so with New York City after a brief helicopter ride.
Having tackled the iconic cities of Tokyo, Rome, Hong Kong, Frankfurt, Madrid, Dubai, Jerusalem and London, Wiltshire is more than ready to take on The Big Apple and has already begun drawing the cityscape in pen.
Cross-contour line drawings by Aaron Earley
Cross-contour line drawings by Aaron Earley: graphite lines of various weights trace over the contours of the face, clearly conveying emotion, despite the lack of tone and detail.
Chaos und Ordnung by Simon Prades
Ink on paper, each 50 x 70 cm, 2010

Images of daily newspapers  have been collected and arranged in large ink drawings, 
filling shapes of three animals with disasters of the human race.
Barry McGee & Phil Frost "Mind The Gap" Exhibit
Although it only officially opens next week, there was a special preview event last night for Barry McGee's and Phil Frost's new exhibit, Mind the Gap at Los Angeles' newly opened Prism gallery. Thanks to Arrested Motion, we can share some images with you of last night's event, and the art work on display.
More after the jump.
Illustrator Spotlight: Russ Mills
My work dwells in a netherworld between urban fine art and contemporary graphics, A collision of real and digital media it is primarily illustration based with a firm foundation in drawing, I focus mainly on the human form particularly the face, interweaving elements from the animal kingdom often reflecting the absurdity of human nature.
I've been hibernating. Or at least it looks that way… 

This is my first attempt at the D&AD Little White Lies cover brief. I think if I use this image I'm going to have to hand render the type, anything else seems to look a little unintegrated, a bit plonked on.
this is beautifully done, a great take on the movie title
(via anewturk)